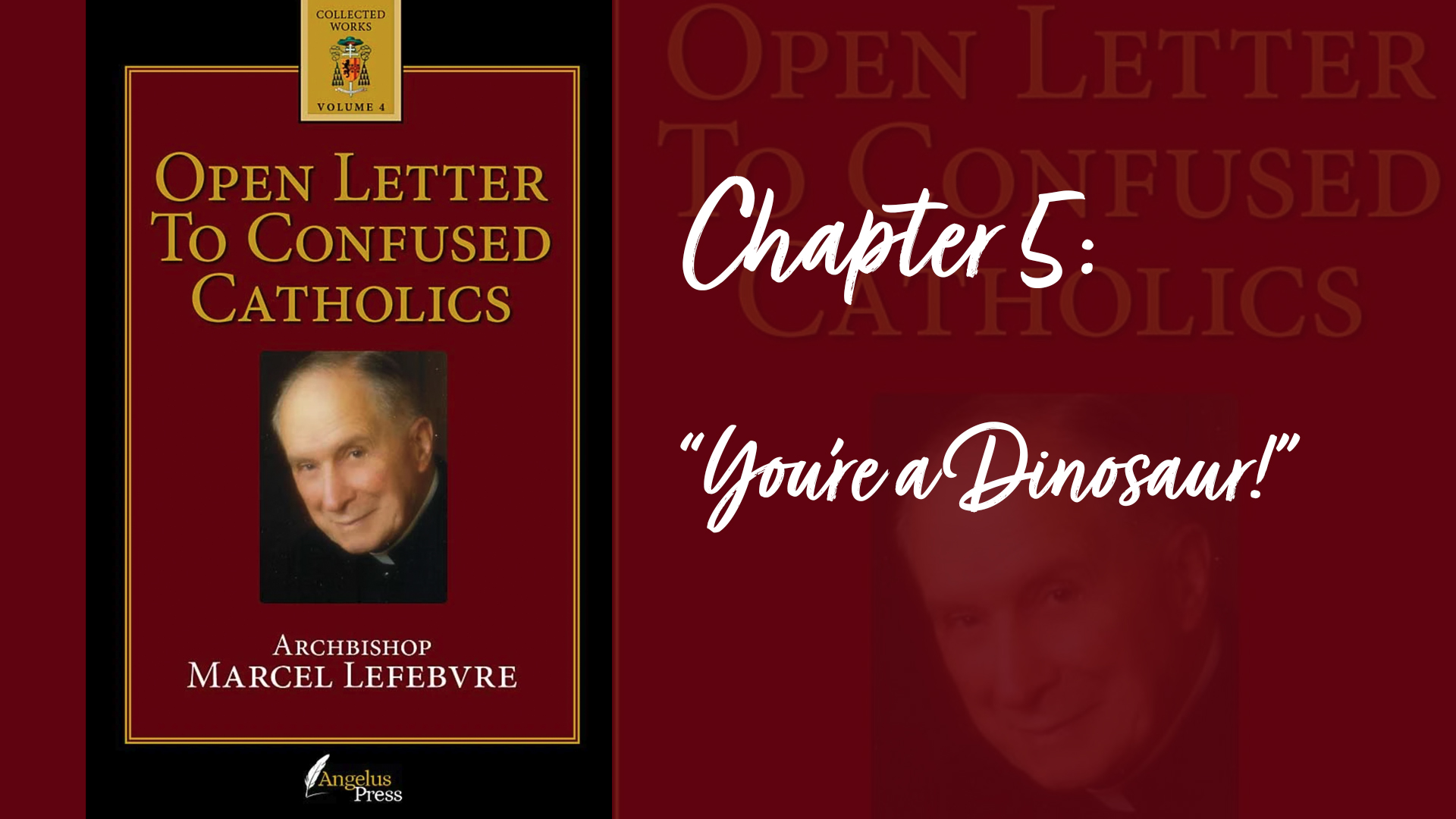 "You're A Dinosaur!"
In preparation for the 1981 Eucharistic Congress, a questionnaire was distributed, the first question of which was: "Of these two definitions: 'The Holy Sacrifice of the Mass' and 'Eucharistic Meal,' which one do you adopt spontaneously?" There is a great deal that could be said about this way of questioning Catholics, giving them to some extent the choice and appealing to their private judgment on a subject where spontaneity has no place. The definition of the Mass is not chosen iCatholics who feel that radical transformations are taking place have difficulty in standing up against the relentless propa-ganda they encounter (and which is common to all revolutions). They are told, "You can't accept change. Yet change is a part of life. You're static. What was good fifty years ago isn't suitable to today's mentality or way of life. You're hung up on the past. You can't change your ways!" Many have given in to the reform to avoid this criticism, unable to find an argument against the sneering charge, "You're a reactionary, a dinosaur. You can't move with the times!"
Cardinal Ottaviani said of the bishops, "They are afraid of looking old."
But we have never refused certain changes, adaptations that bear witness to the vitality of the Church. In the liturgy, people my age have seen some of these. Shortly after I was born, St. Pius X made some improvements, especially in giving more importance to the temporal cycle in the missal, in lowering the age for First Communion for children and in restoring liturgical chant, which had fallen into disuse. Pius XII came along and reduced the length of the eucharistic fast because of difficulties inherent in modern life. For the same reason he authorized afternoon and evening Masses, put the Office of the Paschal Vigil on the evening of Holy Saturday and rearranged the services of Holy Week in general. John XXIII, before the Council, added his own touches to the so-called rite of St. Pius V.
But none of this came anywhere near to what happened in 1969, when a new concept of the Mass was introduced.
Read the full book: https://angeluspress.org/products/open-letter-to-confused-catholics